BID BONDS ARE REQUIRED BY CONTRACTORS BIDDING ON A CONSTRUCTION PROJECT
Before you begin bidding on bonded work you should contact a bonding agent to secure and understand your bonding capacity. A good agent will work with you to secure the appropriate Surety for the type of jobs you are performing.
What is a Bid Bond?
A Bid Bond guarantees that a contractor has submitted his or her bid in good faith and intends to enter into a contract with the obligee. It also demonstrates that a contractor can provide Performance and Payment bonds upon entering into said contract.
Why do contractors want to secure Bid Bonds?
A Bid Bond is used as bid security and therefore a contractor does not have to put up a check to secure his or her bid. Additionally, by doing this the contractor will know that this job is within their bonding limit and what the cost of a bond would be so that it can be included in the cost of the proposal.

If a cashier's check is used as security to bid on a job, and the contractor cannot secure a Performance and Payment Bond the bid security could end up being forfeited.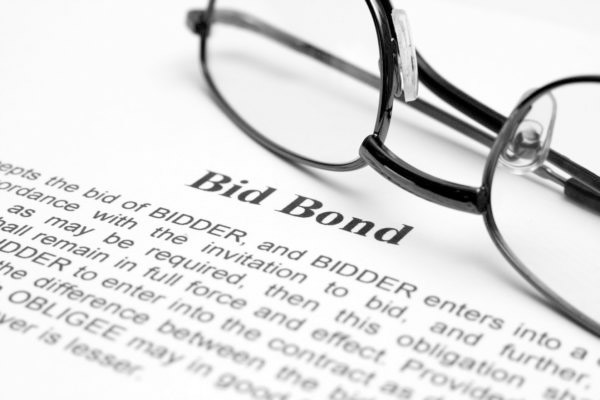 What do you need to obtain a Bid Bond?
A surety company will ask for the documents needed to underwrite your company. The amount of documentation needed depends on several different factors that would be discussed with a bonding agent. Once the surety reviews the documentation they will advise if the bid bond is approved and what the cost of a Performance and Payment bond would be should the contractors win the bid.
Typically, this is the first time that a surety will look at the company. Therefore, you will want to be sure work with someone that knows what each surety will require and which would be the best fit for the contractor. This is where Construction Bonding Specialists, LLC can help you present yourself in the best manner possible. With over 21+ years of working exclusively in the bonding industry we can work with you to help make this a smooth and efficient process.
BONDS ARE ALL WE DO!